I had a brilliant chat with Joanne, a local Slimming World Consultant based at The Heath Technical and Business Park in Runcorn. This interview took place at the end of May – so apologies if the specific Slimming World recipe book is no longer available as a perk!
Needless to say, we had a great chat, a bit of a mini rant and shared some personal diet group experiences! In this interview learn why Joanne got started as a Slimming World Consultant, the range of Slimming World Consultants at The Heath in Runcorn, fitting your weight loss plan into your lifestyle, committing to your weight loss journey with Slimming World and much much more.
#HaltonHour Interview With Joanne a Slimming World Runcorn Consultant
In this video I chat with Joanne about:
Local Runcorn Slimming World group
Why Joanne became a Slimming World consultant
Slimming World groups based at The Heath Technical and Business Centre in Runcorn
Fitting an eating plan into your lifestyle
Junk food is not food (Jan rant 😀 )
Sugar in baby food (Joanne soapbox 😀 )
Committing to yourself – Slimming World countdown
Food, recipes and catering for vegetarians, vegans, health issues, pregnancy
Taking the first step to go to a group, making people comfortable
How to get to Joanne's Slimming World group at The Heath in Runcorn
How to contact Joanne
Watch via YouTube
Video interview with Slimming World Consultant, Joanne. Please like and subscribe – thanks 🙂
Connect with Joanne, local Runcorn Slimming World Consultant
Facebook: https://www.facebook.com/slimruncornwithjo
Instagram: https://www.instagram.com/slimruncornwithjo
Website: https://slimmingworld.co.uk/group/563851
#HaltonHour Features: Slimming World Runcorn with Jo Video Transcript
Transcribed with otter.ai
Jan Kearney
So welcome to HaltonHour Joanne.
Joanne
Thank you for having me.
Jan Kearney
Welcome. Would you like to introduce yourself and your
Joanne
Yeah, course. So my name is Joanne and I'm a Slimming World consultant. And I run a local group in the area. I live in Widnes, but my group is actually based in Runcorn. And the group is on a Tuesday evening and a Saturday morning at the Heath Conference Centre facility on the Heath Business Park over in Runcorn in the old town. And where I've been running my group for about three years, actually, yes, three years this year, in April. We were based at the Cricket Club on Moughland Lane, but we had to move before Christmas. And I just like to talk about what I can look at what services we can offer for the community.
Jan Kearney
Right. That's, that's fabulous. Just to sort of like wind back is maybe
Joanne
Yeah.
Jan Kearney
How did you get started in Slimming World?
Joanne
Okay, so yeah, me and my husband joined Slimming World. It's coming up to five years this year. Yeah, we are both have had a number of health complaints. And we just got to a point where we just needed some help. We needed to do something about our lifestyles about our weight, basically, we needed to lose weight. And my husband, he has heart problems, he had a heart attack at 33. So we were conscious of that could be a major factor in his heart health and stuff.
So and he'd been told by the doctors, he was borderline diabetic as well. And so that kind of like shocked him into needing to do something about it. I've been doing Slimming World off and on over the years, it's always been something I've gone back to because I've struggled with my weight since I was 18. So I told I'd recommend Peter to come with me and join together so that we could support each other. And I'd help him as much as possible.
So we join some Well, we used to go to Carly's on a Saturday morning, she's got a group that used to be at St Bede's but it's now The Buffs. And my husband went on to lose eight stone. He got through his target. And I'd lost nearly four stone as well. Really between us, it was 12 stone. And it was quite life changing, really.
That was the most success that I've had on my journey on Slimmers. But I think it's because we were doing it together. And we were helping each other. And it's such an easy plan. It fits into your lifestyle really easily. It's just simple changes that you can make that can really benefit you.
So because I was quite passionate about it, I wanted to get involved and help more people basically, because obesity is such a major factor in a lot of health complaints. And there's a lot of people struggling with the weight out there. And I wanted to let them know that I've struggled with my weight for years. And I'd like to help other people as much as I can. So after he'd got to his target, I was still working towards mine. And we ended I ended up putting myself forward through for Slimming World got through successfully and then opened my group in April 2018, 21st of April 2018. And I've been helping people ever since then.
Jan Kearney
Wow. That's brilliant. That's fabulous, isn't it?
Joanne
Yeah.
Jan Kearney
Based in Runcorn Heath.
Joanne
Yes, that's right. Yeah, in the conference centre
Jan Kearney
They have quite alot going on in there don't they? So is it all to do with you or is it people related? I shoudn't say related, business related Slimming World to you?
Jo
Right. There's a lot of businesses on the actual park itself. There's all different things going on there. They've got a gymnasium with classes, exercise classes and stuff. And they've got a cafe as well.
Where my colleague Emma, she opened up her first group in January 8 2018, and was based at The Heath. And then she does a Thursday and a Friday, I do Saturdays and then Rachel that used to be based further down in the Old Town, she moved over as well. So she was doing Mondays and Tuesdays, we're basically doing the whole week except Wednesday. All from The Heath.
Rachel's cut back some of her classes now. So I've took over the Tuesday evening, she just does the Tuesday morning. And then there's a new guy Rob, who's come over and he's open the group on the Monday evening. So there's actually four of us based at The Heath now is like, like a Slimming World hub. We've got classes most days now. So you know, we're all there to help. And we've all had similar kinds of journeys. We've all lost weight successfully with Slimming World. And now we want to help other people as well.
Jan Kearney
Yeah, but I mean that that's great. I was quite surprised actually, how many there were at The Heath. You have all the different consultants there. It's obviously working for you. How are you finding it now? Everywhere's opening back up? Are you are you back doing your classes live?
Joanne
Yes, that's right. Yeah, we started back last week. When the restrictions lifted a little bit more on the 17th of May we were allowed to, to open back up and do our our group image therapy. We carried on doing it all the way through the lockdown anyway.
And we did it via, obviously via this platform Zoom. And it has helped people keep going during their weight loss journeys, you know, it hasn't stopped them, it's been able to help them carry on because they've needed that group support, but also that sense of community as well, because you do make friends at the Slimming World group.
And they're quite vital for a lot of people, they don't necessarily have all the connections in the area that you know, they can rely on. Whereas they come to our group. It's a warm, friendly group, and they make friends and it's friends for life. So it's that connection as well, as well as the weight loss thing goes well, it's it's a feeling of community and the group, which is invaluable.
And so now we've opened up, they were so excited on Saturday. It was just a lovely, happy atmosphere. And granted, we were all spaced out. But you know, the chairs are all spaced out. So because of COVID restrictions, I'm still wearing our masks, but it just felt amazing just to be back in and there was such a lovely buzz in the room as well. And we are limited group sizes at the moment because of the COVID restrictions. And you do need to book a space with us. So if you're wanting to start your journey, you do need to get in touch with us. So you can book a space to sit on a seat just because we've got to limit the group sizes, but from the 21st of June, fingers crossed. Those restrictions should be lifted even further. And then anybody can just come and sit in the group.
Jan Kearney
That's brilliant. So go on, you said you wanted to talk about what you can offer. And if we haven't already covered it.
I'll let you take it away. Take it away.
Joanne
Yeah, so Slimmers is such an easy plan to follow. Like a lot of people are doing things different diet plans might have different weight loss plans. And there's so much that with Slimming World, it's such an easy plan to fit into your lifestyle. And you can you can pretty much work anything around it you don't need to weigh and measure your free foods.
We call them free foods because you can fill up on them satisfies yourself not feel hungry at all, but still lose weight. So you know you don't have to calorie count, you don't have to count your ketones or whatever else that everybody's doing at the moment. You can just enjoy them freely. You can adapt them so that they can you know you can make fantastic meals there's so much choice out there and so many ideas and inspiration.
Instagram's full of it. Instagram is an amazing community for Slimming World is some of the the members on there that come up with these fantastic ideas of how to make it Slimming World friendly and fit into the plan. But we also make sure that you keep it healthy while you're on your journey as well.
So we give you extra items that you can have, which we do ask you to weigh in measure and control thoughs, but it's just to protect your weight losses but they keep you healthy. So extra fibre making sure you get enough calcium a day. And then it's just limiting the things that are like high in fat high in sugar higher in, in oil, so that and calories so that you're not it's helping you lose weight and get to where you want to be successfully.
You know two thirds of the country and are classed currently as obese. So it's something that we all need to be aware of, for me as well a lot. You know, it's been a tough tough 12 like 12 to 15 months, hasn't it? And a lot of people have struggled and I just think we need to do something about it because it's such a major factor in the fight against Coronavirus. You know, people who've got really poorly and stuff like that been affected by Coronavirus, then. That's another thing that's an even bigger thing that we need to look at right now.
Jan Kearney
Well, that's what surprised me. I think my views on the whole… I've worked right the way through. So yeah, I haven't. Thankfully, I have not been locked down because I think it would have gone mad. Because there's just me in the dog here. I worked right the way through anyway. But one thing that that surprised me every time going home was the queues for the McDonalds Drive. throughs.
Joanne
Yeah,
Jan Kearney
And it's like, it's funny for food, that's not food. And oh, yeah, and these places are still open and still thriving. And that's fine because they provide jobs. But it's half of the problem. I mean, I struggled with my weight for a well since preteen and onwards.
So I did lose quite a quite a bit a couple of years ago with and that that was high fat and low carb. So it's the opposite to what to what you do. And it's horses for courses and one thing that opened my eyes was the fact to class in your the processed food. What's classified as food now whenever you actually had proper food, we wouldn't have half the problems to be now.
Joanne
Now, it starts from being starts from babies. They started early on the what rate I get on my soapbox about this.
Jan Kearney
You get on your soapbox
Joanne
I find it appalling that there's that much sugar in baby food?
Jan Kearney
Yes.
Joanne
Like, it's surprising how much sugar and additives are put into baby foods. So before babies are even realising what food is. And you know, we're obviously busy lifestyles, busy moms and things like that when we're working and that we do need to look for something easy and fulfilling.
But you know, it needs to be nutritious. And the fact that they put sugar in lots of sugar in hidden hidden in baby food is starting babies being addicted to sugar before they've even before they even know what food is. And that really, really upsets me that because I think we'll know that the problem started before, right at the very beginning, whereas we should be looking at not, you know, sugar shouldn't be a factor in these things that should should be outlawed. In my opinion.
Jan Kearney
I'm working on that as a sugar addict. And I know that every time I sort of got, you know, get back to say, don't eat a lot of processed foods. But even the non heavily processed stuff has got a little, it's amazing where they hide it.
So you know, if we all have the time to cook from fresh, and I wish that we all did. Perhaps it is something that we should be teaching in schools what food actually is because what we're eating isn't isn't food and is causing more damage, then yeah, well, it's worth so then we get people like you who have to come around and help us fix it. I mean, mentioned on your email that you've got a fast and free recipe book.
Joanne
Okay, what we're doing is it's Slimming World, when you commit, if you're committing yourself to your weight loss journey, you want to give yourself that commitment. It really helps members really, you know, get get the head stuck in to be unable to, you know, concentrate on eating healthy and stuff like that, and really given themselves a push for the weight loss journey.
So we have something called countdown so you can pay up front so that you know, like on Pay Day or something you can pay up front, you've not got to worry about the fees then for the rest of the month. And we'll give you a free week as well, because we're cementing that commitment for you.
So if you pay for five weeks up front, you get a week free. If you pay for 10 weeks up front, you get two weeks free, so you're getting three months of commitment to your weight loss journey, but through the year as well love different promotions. So that will give you a free recipe book with that those countdowns.
And the recipe books are brilliant, the last few have been absolutely amazing, we've had what's called take five, where every ingredient only needs five, five items. Every recipe only needs five items, so that it's not too complicated. It's not too fussy, a lot of them take 15-20 minutes to make.
And because a lot of people obviously been busy lifestyles, it's easy to pick up the phone or go online and order your dinner in than actually making something from scratch. So that's why they've made that recipe book for five ingredients so that you don't need to worry. You can use it to be store cupboard ingredients and you can whip something up quick.
And the last one was a comfort zone book. And so that one was loads of slow cooker recipes that were really good, you know, for the winter really fulfilling and warming.
And whereas this one is called Fast and Free, and there's over 60 recipes in here which are all sin free on Slimming World. So all completely free, you can enjoy them without having to weigh measure or calorie counts or anything. And they literally a lot of them are all ready in under 30 minutes.
Jan Kearney
Right. Brilliant,
Joanne
Amazing, amazing recipes there. Everything is a little bit different. But you know, plenty of plenty of ideas for what ever you thinking. There's vegan recipes, vegetarian recipes, you know, so that can fit into the different lifestyles as well.
Jan Kearney
Brilliant. I mean, I've found as well I mean, I'm veggie and I've been since I was yes. since I was a teen and my friend and work she quite often goes. She'll do Slimming World for a couple of months and then drop off and then she's just in the process of going back. But she'll quite often bring in a recipes and I'll vegetarianise them for me but I must admit, I do like the Slimming World soup recipes. One of my favourite ones was a roasted pepper one that she brought it and it was absolutely gorgeous.
Joanne
That sounds nice
Jan Kearney
No, I look. I do like the because you do cater for the vegetarians and it's not something that you have to go around and really struggle to change because it's already there for you, isn't it?
Joanne
Yeah, exactly. You know, anything with chicken any put Quorn in. Yeah, anything with the mince in obviously there's Quorn mince and stuff, and that's free as well. So we do yeah, there is a lot that we can cater towards for vegetarians and vegans.
So yeah, it is it fits into all lifestyles. And, you know, we cater for people with medical conditions as well. So we can, we can give you advice about that. So I've even had a lady that carried on through me with me through lockdown, and she'd lost like nearly three stones she got pregnant, but wanted to carry on through the through her pregnancy.
So and she did successfully and had the baby and then was straight back into into coming back to Slimming World when she had the baby. And now she's going on to lose four and a half stone stone award now so, you know, even even during pregnancy, you can still carry on and eat healthfully, and the baby's healthy, you're healthy as well. It's just making sure you can fit it in. It's really great.
Jan Kearney
That's brilliant. So where are we at? I have to keep an eye on the time. I'm sitting and gabbing and before you know it, we're 40 minutes just chatting.
Joanne
Yeah, it's surprising how quick it goes.
Jan Kearney
Putting the world to rights. Me stamping with my "it's not food" banner! Don't start me… So is there anything that you want to raise? Because I've got here about you, your Slimming World Book. And you you you your promotions with your 10 weeks and 2 weeks that we've talked about? Team Heath Park in Runcorn with groups most days of the week. Is there anything that you particularly want to to bring up? Is it Yeah. While we're doing your your business spotlight as it were?
Jo
Yeah, I mean, as I say, every there are this The Heath as well at the Heath Conference Centre, there's lots of groups in the area, as well as all over Runcorn and all over Widnes. So if there's anybody struggling, you know, don't sit there on your own and think that you can't do it.
Because it's so hard taking that first step, I can totally imagine that people are worried and, and scared about coming and getting weighed on our scales and things. And it is really, really scary taking that first step. But we're such lovely, warm, friendly groups.
There's no judgement. No, you know, we won't embarrass anybody, we won't talk we won't we never say your weight out loud. You know, it's totally confidential as well. And I just want to reassure people that, you know, please don't feel that you're on your own. We're here to help you out. And, and that's basically what I wanted to talk about.
Jan Kearney
Yeah, many, many years ago. I mean, I haven't done Slimming World for years. Or the other one. The one of the things that was absolute, I remember it clearly, we were in the Leisure Centre in Widnes, we're talking,
Joanne
oh, yeah,
Jan Kearney
decades ago. This woman and remember being mortified, I never went back, shouting, you know, well, she didn't shout it, but it felt like she was shouting at the time. And you stood on, and I was absolutely massive at the time. Her saying very loudly, the weight and and, and just to shear horror, because it is a huge step.
Joanne
It is
Jan Kearney
I know, I never went back to that one. But I know things have changed since then. And classes that I have been to since then. I've never been in that position. So I mean, you know, and it is a big thing. It is a big thing. When you go in in and you're taking a step into a group situation with the dreaded scales.
Joanne
Yeah, it is. It can be bad. Little, not little things. Obviously, that was quite a big thing for yourself. But it's being mindful of how people are feeling when they're first come, you know. There's a lack of confidence is, you know, embarrassment that they don't want, you know, you don't want people knowing.
Jan Kearney
You know, she shouts she didn't shout so it was just said loud enough for other people to hear. You know, it's enough.
Jo
And that's totally not right . So I'd add that, no, we'd never do that to anybody. Certainly, you know, that's the other thing as well. We want to make sure that people feel comfortable when they come to our groups. And, you know, it's, yeah, it's a really difficult thing I've been I've had myself, I've experienced things like that as well. And it is embarrassing and you don't you don't no. You don't want that.
Jan Kearney
People know it's hard enough geting up and going in in the first place.
Jo
Getting the guts to go. I remember living down I was living down in London when in my 20s and I wanted to do something about this Slimming World about weight loss. So I found a local Slimming World group where it was living at the time. We couldn't find the address was on the website. So I got the train to where it was going to.
Totally, it took a lot for me to go as well. Because of that it's not. It's not ideal location wise where I was living. So I'd gone out of my way just this one night straight after work, got straight there. And I couldn't find the place. And I'm like, Where? Where is it, there was no signs up, there was nothing.
So even that in itself, and then I didn't, I didn't go back. I waited till I moved back to back home and then started then. But you know, even something simple like that. So we, you know, we have got our signs up and stuff around, we have our signs so you can clearly see us, because that can be put off as well just try to find the place and know where you are. So
Jan Kearney
Yeah, there's nothing worse than going into a community centre or something and going into the wrong room. Is this Slimming World? No, no. And they're all looking at you. The shame!
Joanne
Exactly
Jan Kearney
Talking about finding you, how do we find you?
Jo
Yeah, so there's two entrances onto onto the Heath Business Park. So you can either come in off Heath Road, and you've got the park on the right hand side as you're going up from from the fire station. And as you come off the main Expressway, and you've got the park on one side and then the Heath Business Park is a little bit further up. It's quite handy because you'll see lots of COVID fans there because there's a COVID testing Centre at the back, but you want to take you back to the first exit on the left from Heath Road. And then you literally just follow the road all the way around just the the cafe and the gym on the right hand side. And we're the next car park after the cafe.
Jan Kearney
Right.
Joanne
Or, alternatively you can come in off the Weston Point expressway as well. And you'll see signs for the Heath Business Park there come to the first round about and again, the car park is the first left as you come off the roundabout. So
Jan Kearney
There you go we're sorted then. So I mean, are you run a group on Instagram or Facebook or anything?
Joanne
Yep, yep. So I have an Instagram page. It's SlimRuncornwithJo
Jan Kearney
Got you there, I shall find you.
Joanne
SlimRuncornwithJo and my Facebook page as well. Oh, actually, I changed the name on this. Let me just double check all right. Slimming World Runcorn with Joanne is my new Facebook page. Sorry,
Jan Kearney
I will find you and Runcorn with Joanne. I will find you because what I'll do I'll put all the links in the show notes and on the YouTube description as well. So people can come along and find you and follow you and get in touch that way. Do you have a website? Or is that done through the Slimming World websites
Joanne
it's through Slimming World, Yes. So I for latest joining offers and things like that it's always listed on the Slimming World website which is www dot Slimming World co.uk. If you go onto the Slimming World website, it can also you can click on Find a group and putting your postcode in, and then it will show you where you closest groups and what the times are there. So it'll bring up like a little map of Widnes and Runcorn and show you all the groups in the area that are running and the contact details as well for the consultants. You can get in touch with them.
Jan Kearney
Brilliant, fabulous. Well, I think we've pretty much covered everything
Joanne
Yeah, thank you Jan
Jan Kearney
No, thank you. And thank you for your patience while I totally missed the date. And yeah, but I think we'll wrap up there unless you want to tell us anything else?
Joanne
No, no, that's everything. Yeah, that's brilliant. Thank you.
Jan Kearney
Thank you so much for your time.
Joanne
It was lovely to meet you, Jan. But yeah, if you let me know once it's all on and I'll share it to my pages.
Jan Kearney
I will do, I'll tag you on your Facebook and your Instagram as well. So
Joanne
Lovely thank you very much.
Jan Kearney
Thanks. speak to you again soon. Bye bye.
Transcribed with otter.ai
Connect with Slimming World Consultant Joanne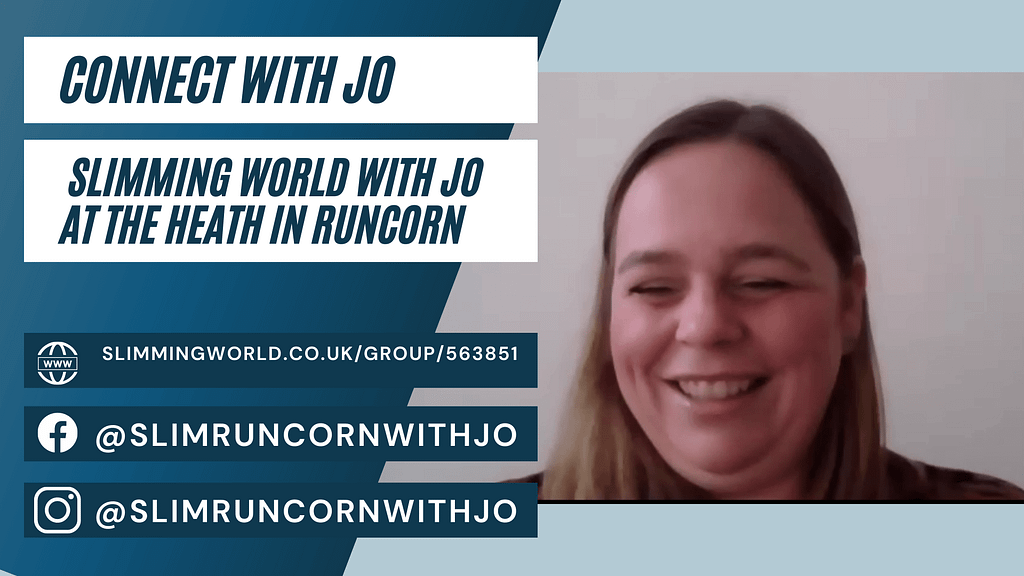 Facebook: https://www.facebook.com/slimruncornwithjo
Instagram: https://www.instagram.com/slimruncornwithjo
Website: https://slimmingworld.co.uk/group/563851
If you found this feature useful and would like to see more, please share with your networks! Simply click any of the buttons below
Want to be involved? Check out our Get Involved page
Credits: Music by dylan-darby from Pixabay