When I discovered I could restart the #HaltonHour Twitter chat as I was having a digital clear out, I did think:
Let's face it, it was coming up to 5 years ago when I stopped hosting. #HaltonHour never restarted, even after I handed over the password to the Twitter account. 5 years is almost a millennia in social media terms!
But you know, there are 15.25 million UK Twitter users. And I am pretty sure some of those live, work, play or serve Halton. What surprised me most was the number of people who asked "What is a Twitter chat?"
Perhaps its a generation thing…
Maybe all the cool kids are dancing on TikTok…
But for those of us who perhaps lack in cool moves but fancy an hour of virtual networking in 280 characters or less, Twitter Chats are still a thing!
What is a Twitter chat
A Twitter chat (or Tweet chat if you prefer) is a real-time conversation on Twitter. Chats are scheduled, they can be daily, weekly, monthly or even one off live events. Each chat is focused around a specific topic or region and is open to anyone on Twitter who uses the chat's designated hashtag.
How do Twitter chats work?
There are no set rules to how a Twitter chat is run. There are two main forms of chats
Question and answer format around a set topic. The host asks questions and participants tweet their replies. These types of chat events are based around set topics. Questions are often prepared ahead of time, so you can prepare too! Q&A Tweet chats are good for learning and/or sharing knowledge and meeting people who share the same interest.
Open networking Twitter chats based around a theme, region or event. Participants attend to virtually mingle and network with other participants and share their news or promos.
#HaltonHour is an open networking regional hour Tweet chat held at 8pm every Thursday. Yes, you can network in your Pjs or lounge suit if that takes your fancy!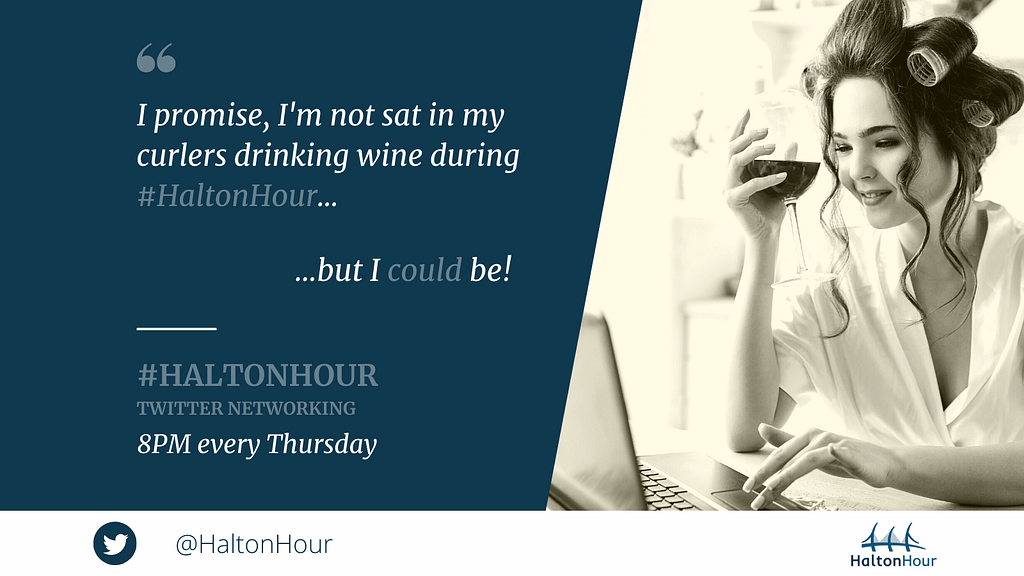 How do you join a chat on Twitter?
All Twitter chats have their own unique hashtag used by the host and participants. Search for the hashtag on Twitter, click the Lastest tab and you'll see the chat in real time.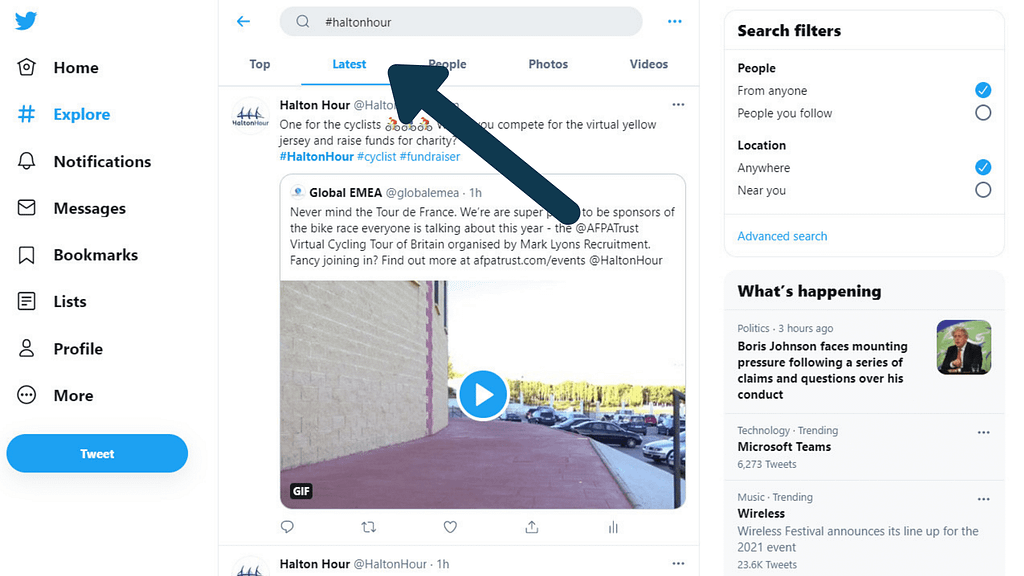 To join in a Twitter chat simply log into your Twitter account on the advertised date and time and use the chat hashtag in each of your tweets that you want to appear in the conversation.
How to take part in a Twitter chat easily
If you're new (or even not so new!) at Twitter, taking part in a chat can be quite overwhelming. That feed moves so quickly! There are several ways you can make the chat feed easier to read and take part in.
Tweetdeck
I personally use Tweetdeck in in my browser on a PC. I'd stand no chance on a small screen, I'm blind as a bat! Tweetdeck is owned by Twitter and is free to use. You can add columns to your screen for chats you follow, lists you curate, notifications and home screens.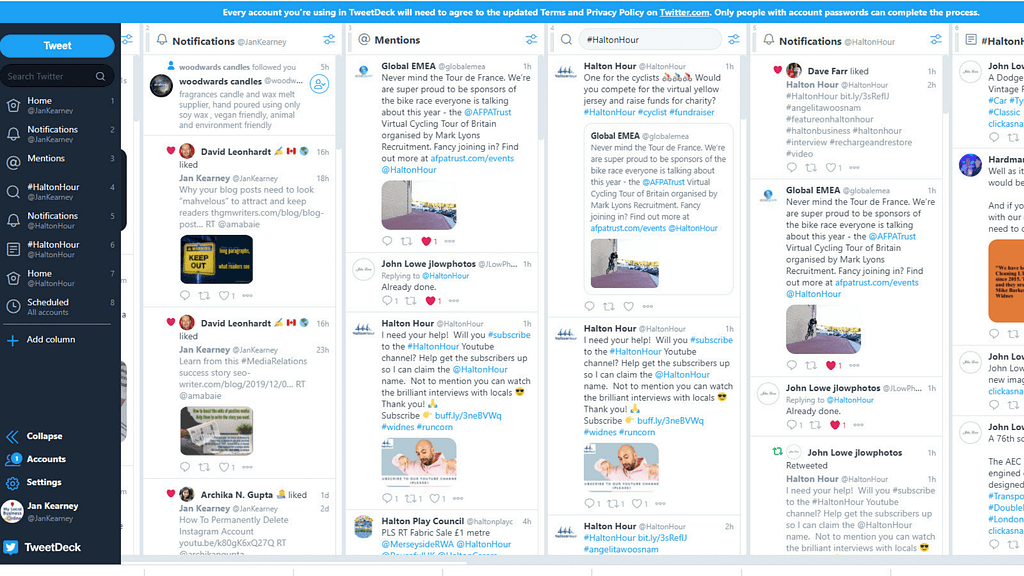 You can do something similar if you have Hootsuite account.
Twubs
I recently registered #HaltonHour on Twubs. It is an old platform and needs a bit of an overhaul – but it still works. Twubs is free to use, just log in with your Twitter account.
Twubs allows you to focus on a single steam of conversation. You can speed the stream up, slow it down or pause to suit you. You can reply, retweet, and favourite from the Twubs feed too.
And the best part?
Twubs automatically adds the chat hashtag in the message pane, so you know your message is added to the conversation.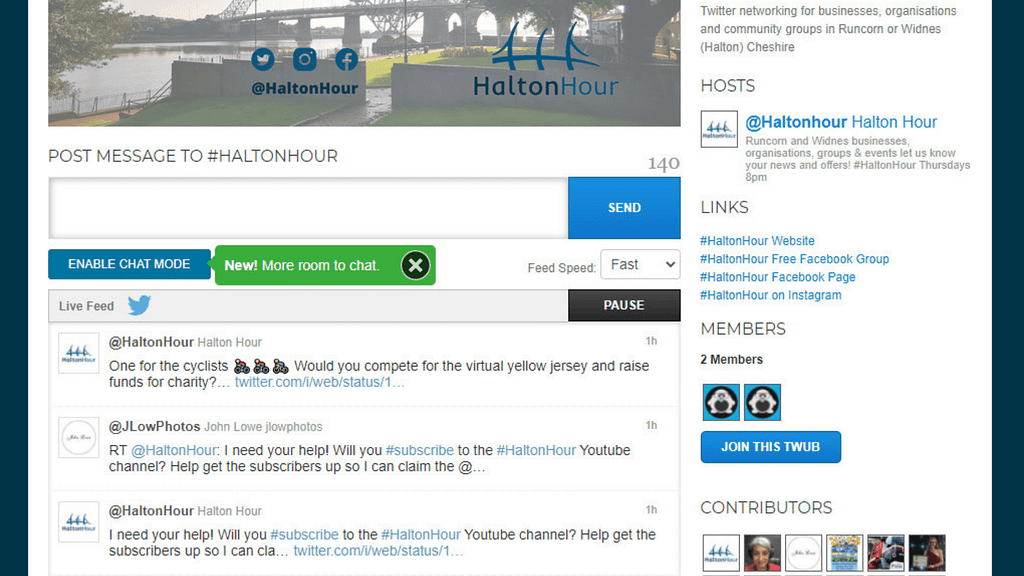 TChat
Tchat.io is a similar free service that allows you to focus on one chat in a single stream. It has a very clean feel and allows you to play or pause the chat window.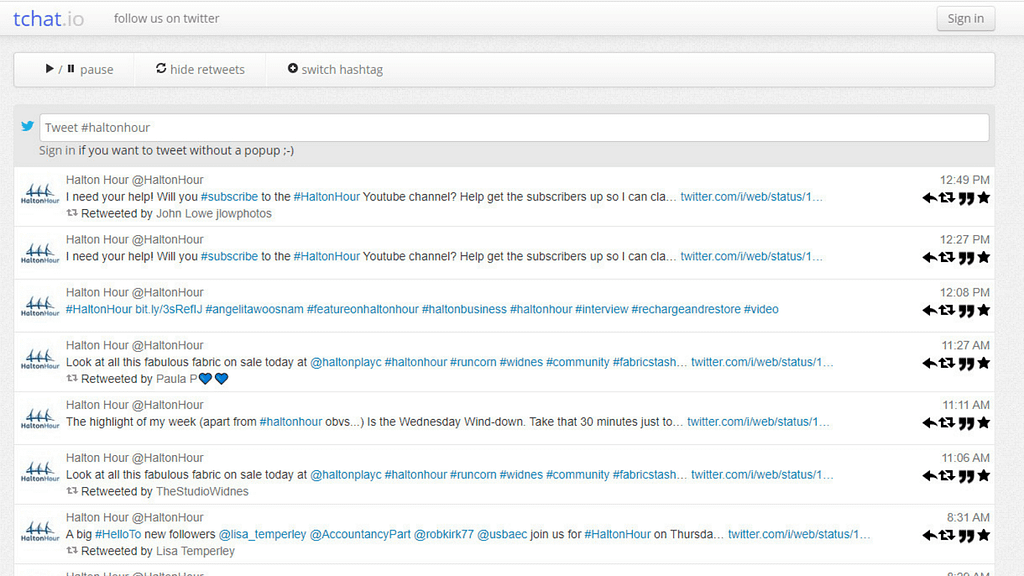 7 Great reasons to take part in a Twitter Chat this week
Now you know how you can easily take part in a Tweet chat, here are 7 reasons why you should!
Taking part in a Twitter Chat is perhaps the easiest way to connect with like-minded people on Twitter.
Twitter chats are an effective way to network in a local area
Taking part in Twitter chats enable you to share with and learn from like-minded people with common interests
Taking part in local Twitter chats can gain exposure for your products, services, events, fundraisers and more
Networking with like-minded people can grow your Twitter following
Taking part in Twitter chats regularly can increase your brand awareness as your name and profile image pop up regularly
Additionally, regular participation can be an excellent way to establish brand authority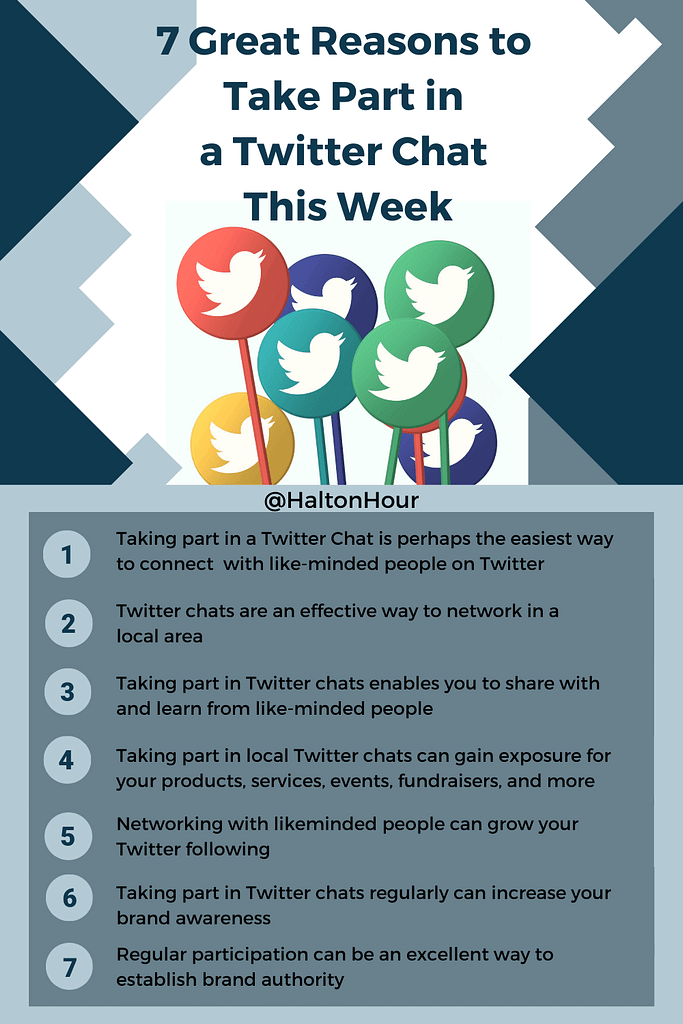 #HaltonHour – more than just a Twitter Chat!
HaltonHour is dedicated to promoting #Runcorn and #Widnes businesses and the local surrounding community. #HaltonHour did start as a regional Twitter chat back in 2014. I decided when I resurrected the Twitter account and domain name that there was so much more that #HaltonHour could offer. You can get involved too – check out the Get Involved page to see how #HaltonHour can help your business, organisation or community group.
Don't forget, if you found this post useful please share with your network!