So you're a business or group based in or around Halton, Cheshire and you're thinking…
How do I get featured on #HaltonHour?
One of the many ways you can get involved with #HaltonHour and get the word out about your organisation is to write an article or blog post and publish right here on the HaltonHour website.
It's not always easy thinking about what to write for a blog post, especially if writing is not something you do regularly. I put together the HaltonHour Easy Blog Post Outline Template to provide some tips and structure to take away the over-thinking that can go into writing a post.
Let's start at the top…
7 Tips for Easy Blog Post Writing
Blog Post Tip #1 – Stick to 1 Topic
It's good practice to stick to a single topic (e.g. a product, service, event). Trying to cram everything you do into a single blog post or article is overwhelming – for you and your reader.
And this might come as a shock…
You have no secret sauce! Don't be afraid to share your knowledge about your chosen subject. These days, everyone can access any info right from their phone. Showcasing what you know is one way of standing out and promoting trust.
"You have no secret sauce! Don't be afraid to share your knowledge about your chosen subject." Featured on #HaltonHour – The Easy Blog Post Outline
Click To Tweet
Because you want to feature on #HaltonHour, it would make perfect sense that your article is relevant to the people of Runcorn and Widnes!
Blog Post Tip #2 – Write an Introduction
Your blog post intro is important. People skim read, so you need to grab attention and let them know what's in it for them right at the top.
Why should someone read your article?
Highlight two or three benefits that people will get from reading your post. What is important about your product/service/event – what problems do you solve or how will you make people happy?
Blog Post Tip #3 – Think about Structure
Structure your blog post so it is easy to read on a range of devices.
Keep paragraphs and sentences short.
Bullet point lists.
Use headings and sub-headings.
Remember – plenty of white space.
Break up walls of text.
Blog Post Tip #4 – Use a Call to Action
Now you have written the bulk of your article, add a call to action. What do you want people to do next after they read your blog post on HaltonHour?
Your post on HaltonHour will be shared across social channels – and put on the rota to keep Tweeting as a featured article. Its job is to help you to spread the word and get your name out there. Readers who have never heard of you may want to find out more…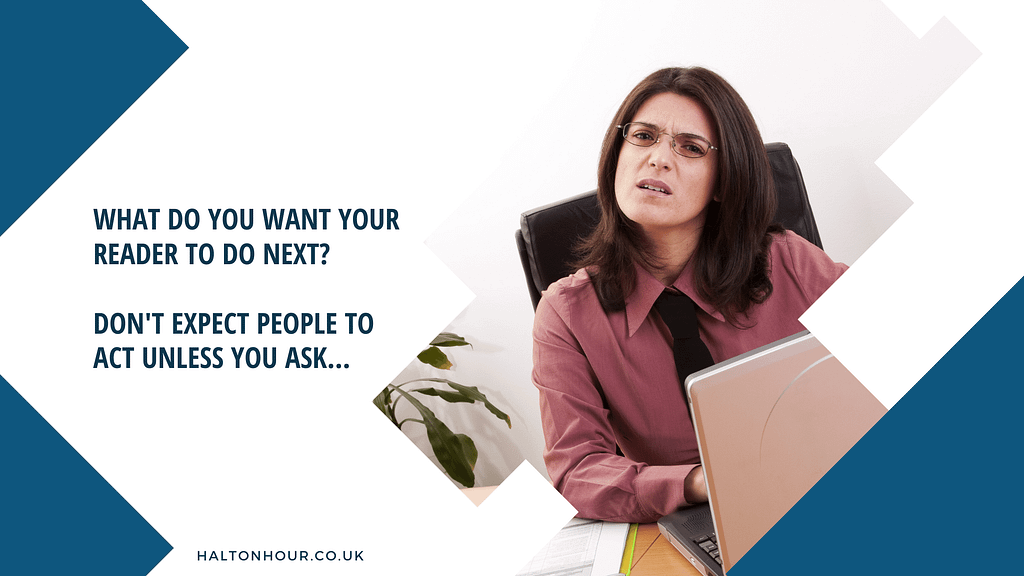 After reading your post, why not ask readers to:
Join your Facebook group
Claim a freebie – sign up yo your email list
Follow you on social media
Download your app
Discover more – visit a page on your website
Blog Post Tip #5 – List Your Sources
If you have used facts or figures from places other than your own organisation, it's always good practice to cite your sources. Additionally, if you've used any content that you did not create in your blog post that requires attribution – make sure you attribute.
It's not OK to use watermarked images – even if they are photos of you!
Blog Post Tip #6 – Break Up Your Article
This is very much related to tip #3. Break up your article with images, GIFs or video. More about adding other media at the end of this post.
Blog Post Tip #7 – Add a Conclusion
Summarise the main points of your post. It doesn't hurt to add your call to action again either!
Get Featured on #HaltonHour
Once you've written your article and checked the spelling, get ready to send it to me at HaltonHour. There is still some work to do though…
Gather your images
Images are a fabulous way to break up your blog post and make it easier to read on a screen. Don't forget too that an image speaks 1000 words!
You will need at least 1 image to use as a blog header. A rectangle image (1200x630px) works well when sharing on most social platforms.
Except Pinterest – which has a life of it's own and LOVES vertical images (minimum 600x900px). It would be nice to make an image that can be shared in Pinterest but not essential.
Now if you read about image sizes and thought "what the actual…" don't worry! Just let me know and I get all Canva happy on your image and make one.
To make my life easier, name your images. Use descriptive file names. Not only will I be a happy bunny that I can put your photos exactly where you want them in the post, but search engines will appreciate the names too.
If you use stock images, provide the licence or source if it's copyright free. On the topic of copyright, don't submit watermarked images – even if it is a photo of you.
Wrapping up
That wasn't too painful was it?
The 7 tips for easily writing a blog post are:
Stick to 1 topic
Write an introduction
Structure for easy reading
Use a call to action
List your sources
Include images, GIFs and video if relevant and possible
Add a conclusion – summarise your post
Discover 7 tips for easily writing a #blog postFeatured on #HaltonHour – The Easy Blog Post Outline
Click To Tweet
You can always refer to this post whenever you need easy blog post writing tips. Or why not:
download your copy of the HaltonHour Easy Blog Post Outline as a PDF here
download your copy of the HaltonHour Easy Blog Post Outline from Google Docs here
If you've found this post useful, please share to your social channels – click the buttons below 🙂
The HaltonHour Easy Blog Post Outline Tip Sheet